Alma & Co. now carries handcrafted pieces from independent designer Belt & Wire! These pieces are created from 100% copper and real leather, recycled from belts. You will love these pieces to style a casual tee or for a more boho chic look,  style them with a flowing maxi dress. In order to keep your one-of-a-kind pieces lasting for a long time, you will want to understand how to properly care for, and clean each piece.  Are you wondering how to clean copper jewelry? Here are some tips to keep your copper and leather jewelry clean and safe: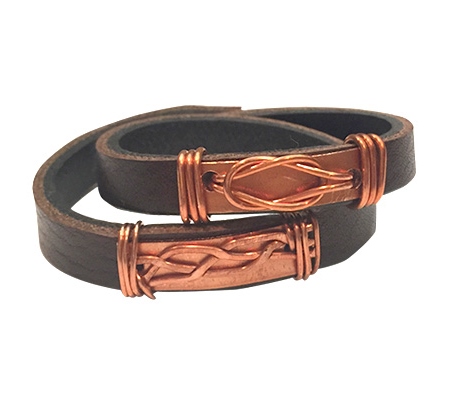 Leather care:
To care for the leather, you can use the inside (softer part) of a sock, or a soft cotton cloth. Dampen the sock or cloth with lukewarm water to clean the surface of the leather. Use a dry portion of the cloth or sock to rub on leather conditioner (can be purchased at a pharmacy, Target, etc.) in a circular motion and allow it to dry. Finally, use another dry area of your sock or cloth, and rub the dried lotion in a circular motion to provide a sheen.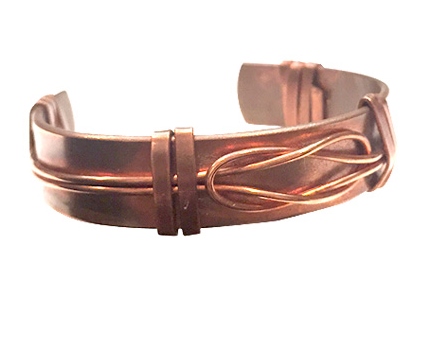 Copper care:
To clean copper jewelry, mix warm water with a few drops of mild soap. Dip a soft rag or cloth into your water/soap mixture and wipe the copper until it is clean. Rinse it off with clean water and then dry the copper with a soft cloth.
To polish the copper, prepare a cup of lemon juice and add a dash of salt. Dip a soft rag/cloth in the mix and very lightly rub the copper. After, dampen another cloth with clean water to rinse of the copper. Another quick fix is a to just polish it with a jewelry cloth.
Storage:
To keep your jewelry safe from tarnish, store it in a plastic zipper-lock bag.
No two pieces are the same and each piece of jewelry is handmade from recycled leather belts and copper, ensuring that you have a unique, handcrafted piece! With your jewelry being one of a kind, it is important to know how to clean copper jewelry and  leather jewelry. What Belt & Wire piece is your favorite?